Give a marine touch to your in or outdoor decoration by securing your guardrail with Concept Inox Deco wires. Smart and strong, these stainless steel wires are assembled with the marine know-how of Sparcraft Company, specialized in mast and rigging manufacturing since 1962.
BENEFITS of CONCEPT INOX DECO systems
Timeless and universal design
> Elegance like a yacht deck.
> The unique Concept Inox Deco system enables a fixation on various supports such as wood, metal, stone, concrete, brick, composite material.
> Nicely designed angles and perfect details.
> Time and worn resistant thanks to the use of EU high quality steel and industrial process already tested in yachting.
Various architectural projects

> Home, gardens, harbor area, museum, industrial architecture,…
THE FRENCH TOUCH of CONCEPT INOX DÉCO
> wire interconnections
> Fixations on many supports
> Partnership with a professional network: contactSPARCRAFT division RIGGING)
THE CONCEPT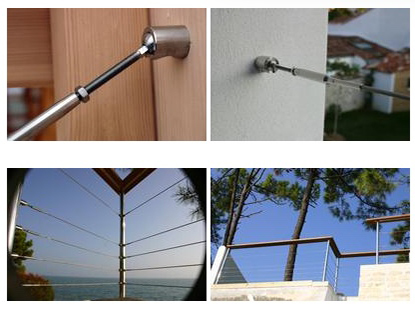 Concept inox Deco :
The concept consists in assembling stainless steel elements (swaged or screwed terminal/holding ring) to the wire in order to form a unique and aesthetic set inside or outside your house.
Fittings on wood, stainless steel, concrete



SPARCRAFT RIGGING division